CEO's message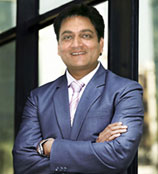 I sincerely thank you all for always standing beside through the journey of Pandya Group Started with a modest beginning of constructing quality real estate. We cater to multiple geographies with real estate projects in all ranges. In reciprocation; the market today has grown to recognize us as a responsible leader of tomorrow. We believe that value creation is an everlasting phenomenon and trust is not built overnight.

My journey till now has been a series of challenges and achievements along with a sense of inner satisfaction which Pandya Group receives on serving the society through its world-class structures. As the CEO of the organization, I accept that the competition seems to become far more daunting in its own way. And this is the reason that motivates and inspires us to innovate incessantly and strengthen our resolve to tread the difficult path with greater conviction and assurance.

While laying the first stone to the foundation of this now popular organization, the only thing that came in mind was to give the best and the foremost to the people who will come to us. Today when we look back, we have achieved this to a greater extent and hope to keep doing so in future too..

In the role of CEO of this Flagship Company, Pandya Group brought a paradigm shift in the real estate business scenario of Rajasthan and pioneered various new & innovative projects, and most of them are recognized as Landmarks in today's real estate arena of Rajasthan.

At Pandya Group, we take a certain pride in our vision and insight of your world.

We believe that any work when done with conviction and confidence, and with belief in the Almighty God, will return to you in its best form.